Manifold system profile:
CM gas manifold system's designs can be customized, 5500 series/2300 series/ 2400series /5600series automatic maniflod system is designed to provide an uninterrupted gas supply without any manual adjustments. This system automatically changes over when the primary cylinder bank is depleted. Even in case of power failure, the system continues to supply gas without interruption. besides,they allow the medical gas manifold cabinet to be converted in the field. These design features: improve safety, reduce manifold system costs, make the units easy to service and provide the utmost in reliability.
2400 series dual-bank manifold system consists of a main gas delivery bank and a reserve bank of cylinders. When the primary cylinder bank is depleted, manunlly "turn off" the valve on the primary bank and open the valve on the reserve bank to reactivate gas fiow. Thechangeover of this system needs to be operated manually.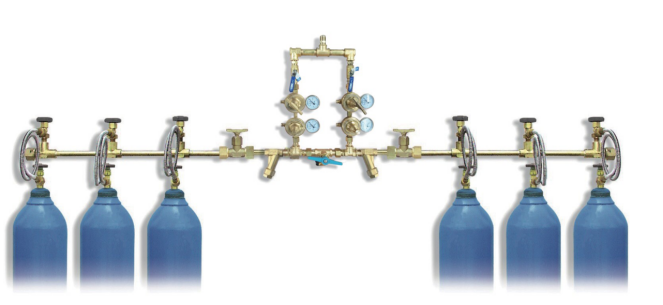 Automatic switchover manifold features:
Silver brazing on piping joints for maximum leak prevention
System is designed to accomodate future expansion needs
System is mounted with gas filters Pressure switch port is available Headers have been tested to withstand high cylinder pressure
Wall or floor mount available
Air manifold system standard constructions:
24" flexible high pressure stainless steel braided pigtails* with check valve. Rigid copper pigtails are standard when gas service is oxygen. Pigtails for acetylene models are equipped with dry flashback arrestor.
For Acetylene or Fuel gas model, regulator outlet is equipped with a dty flashback arrestor(FA30PF)for additional safety.
As an option, hydraulic flashback arrestors are available for an additional charge.
CM's high flow regulator series 240 Carbon Dioxide manifold systems are provided with electric heating regulator.
Medical oxygen manifold specifications:
| | | | | | | |
| --- | --- | --- | --- | --- | --- | --- |
| SERIES | | | | | | |
| 2400 O | OXYGEN | 3000(207) | 10~200(0.7~1.4) | 3150(90) | | PIGTAIL, CGA540 |
| 2400AC | ACETYLENE | 400(28) | 2~15(0.14~1) | 1750(50) | | PIGTAIL, CGA510 |
| 2400 P | PROPANE | | 5~125(0.35~8.6) | 7000(200) | | PIGTAIL, CGA510 |
| 2400 C | CARBON DIOXIDE | 3000(207) | 5~125(0.35~8.6) | 3500(100) | | PIGTAIL, CGA320 |
| 2400IN | HELIUM | 3000(207) | 10~200(0.7~1.4) | 3500(100) | | PIGTAIL, CGA580 |
| 2400IN | NITROGEN | 3000(207) | 10~200(0.7~1.4) | 1050(30) | | PIGTAIL, CGA580 |
| 2400IN | ARGON | 3000(207) | 10~200(0.7~1.4) | 1050(30) | | PIGTAIL, CGA580 |
| 2400AIR | AIR | | 10~200(0.7~1.4) | 700(20) | | PIGTAIL, CGA590 |
Recommending sizes:
Please follow the instructions below to select the correct model number