How to install the medical gas outlet project to hospital?
Views:695 Author:Site Editor Publish Time: 2018-04-15 Origin:Site
Medical-gas outlet/inlet terminals
Most manufacturers of medical-gas system equip­ment offer various types of medical gas outlets. These medical-gas outlets are available in various gas orders (e.g., O2-N2O-Air), center-line spacing, and for exposed and concealed mountings. Outlet types and configurations must meet
the re­quirements of the local jurisdictional authority and NFPA99. All outlets must be properly identified and confirmed. Care should also be taken to accu­rately coordinate the various pieces of medical-gas dispensing equipment with the architect and medi­cal staff involved in the given project. If the project is a renova­tion, the outlet types should match existing equipment.With prefabricated patient headwall units, the medical-gas outlets are generally furnished by the equipment manufacturer, and it is very impor­tant that coordination be maintained by the engi­neer so that unnecessary duplication of work is avoided. Also, with regard to the overthe-bed medical-gas service consoles, these consoles are often specified in the electrical or equipment section of the specification and medical-gas service outlets are specified, furnished, and installed under the me­chanical contract.
Gas-outlet sequence, center-line spacing, and mul­tiple-gangservice outlets are some of the consider­ations to be taken into account when requesting information from the various equip­ment manufacturers. It is more practical, in terms of both the cost of the equipment and the installa­tion, to specify and select the manufacturer's stan­dard outlet(s). Details and specifications regarding the individual standard outlets are usually avail­able from all manufacturers upon request. The existing outlets are compatible with the adapters found on the hospital's anesthesia ma­chines, flow meters, vacuum regulators, etc. Care should be taken to make sure all future expan­sions in the same facility have compatible equipment.
Medical gas outlets project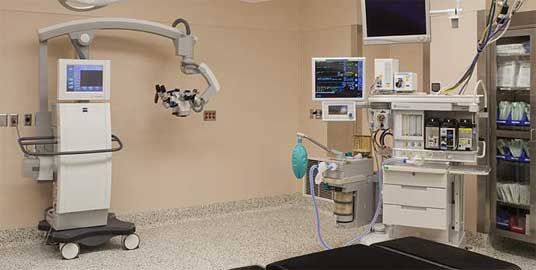 All wall outlets shall be positioned 1,5m above floor level in positions shown on the drawings. Where extensions are being carried out to existing hospital layouts, it is essential that the medical gas outlets are identical to those already in use. Fittings and outlets from the same supplier shall be used throughout the entire hospital. Outlet points on all new hospital installations shall be flush mounted, non-protruding, quick coupling, self-isolating types with safety keyed connections, similar or equal to Heyer outlets to the configurations outlined in S.A.B.S. Specification 1409 – 1986 (outlet sockets and probes for medical gas and vacuum services used in Hospitals).
The probes must be marked the same colour as the cover plate. For new installations in existing hospitals where surface mounting of tubing and fittings is specified, outlet points shall be as above and be of the surface mounted type. The use of check valves incorporated in the outlet point is optional and depends on the project.